The only 1's and 0's I speak are Audio
Although there are a few ways to playback digital music, we find doing so with an audio signal sounds the best.
But the great clocks, proper isolation and pristine audio outputs aren't what you'll love about your A Cappella III. You'll love the way it makes your speakers sound.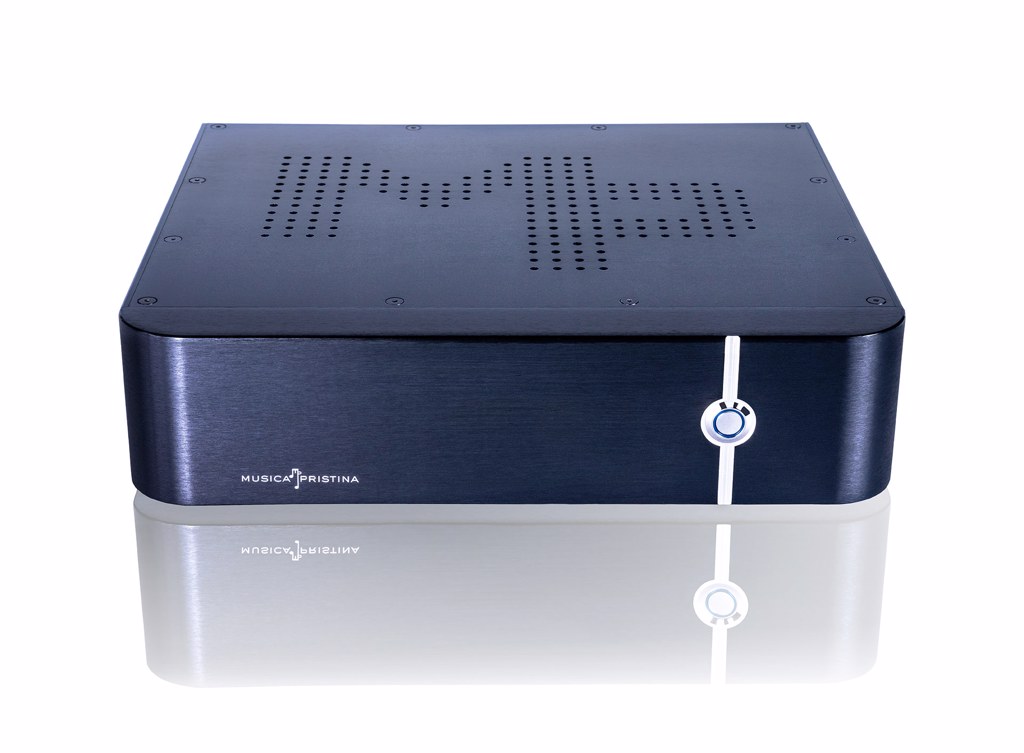 Introducing A Cappella III
Musica Pristina's roots are firmly planted as computer audio pioneers. We've been building music servers with computer parts, Windows and linear power supplies for ages. (We never really wanted a printer port in the server, but it's harder to remove than you'd imagine.)
But, sometimes you have to let something go to grasp something new.
So we left the world of Windows and PC motherboards in favor of System on Chip (SoC) and Linux kernels. We were finally empowered to build the player we always wanted to build, with only the parts and features we wanted it to have. A network player whose sound isn't shaped by the Windows audio sub-system. A player that doesn't radiate noise to the rest of your system.
What is A Cappella III?
Audio Clocks: At the heart of all music is the rhythm. And the rhythm in digital audio is driven by the clock(s).
I2S Output: The native language spoken by DAC chips is I2S. So that's where we started. I2S means audio without translation, and if you haven't heard it, you haven't heard digital.
Roon: The music player for music lovers. Forget everything you know about music players. Music is an experience, and Roon reconnects you with it.
NAS for Music: We love Network Attached Storage (NAS). Huge libraries, easy backups, error checking and galvanic isolation. Store more music, with better sound, on an external NAS device, and play it on your A Cappella III with the Roon interface. (No need for UPnP, DLNA, MPD).
Linear Power: Underlying everything is DC power. Super clean DC Power. The smoother the road, the smoother the ride.
Simplicity: Using a playback system should be as much fun as listening to the music it creates. Our interface is pure joy. We built it that way.
---
Being RoonReady means that Musica Pristina network players transparently discover and connect to Roon, with no network configuration, with bitperfect delivery of audio to your dac.
Together, Roon and Musica Pristina deliver the power, flexibility, and performance benefits of networked audio, with the easiest setup and highest reliability available.
Learn more here: https://roonlabs.com/partners.html
---
So how does it sound?
To really find out, you'll have to hear it for yourself. Go ahead, you deserve it.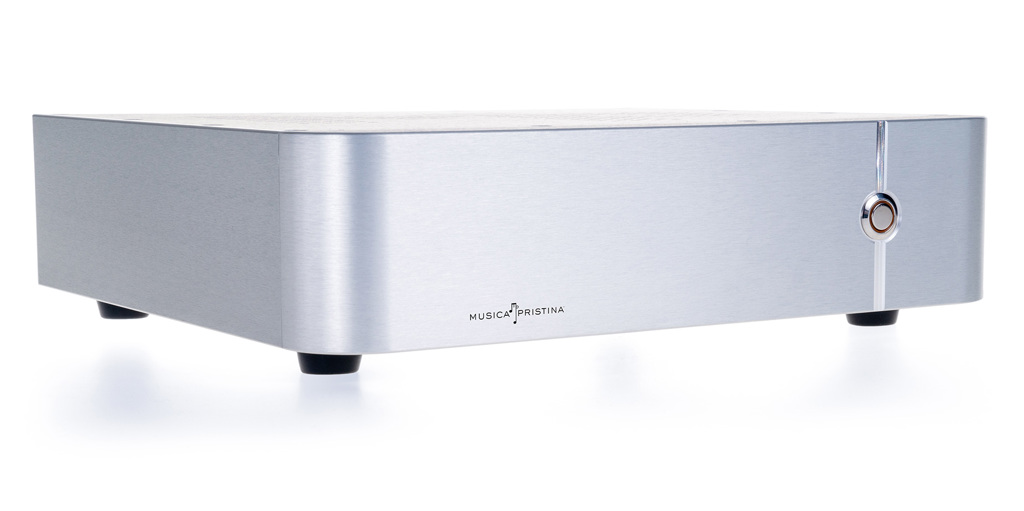 Product Details
Power Supply
For the true enthusiast looking to extract every ounce of joy from each and every listening session, we offer a purpose-built linear power supply in the A Cappella III. Hundreds of hours of engineering, testing and listening have come together to bring you a truly magical DC power source.
Not all linear supplies are created equal. While typical (think hot and heavy) linear PSUs often report low ripple values (2 mV pp RMS or less), they rarely deliver on audio experience.
Our linear supply, which is a divergence from the ordinary, brings new life to your digital music—one you never imagined possible. Tight accuracy of the bass, holographic realism of the soundstage, incredibly natural vocals and highs. You need only listen to experience all this and more springing forth from the A Cappella II.
Ethernet Input
A 100 Mbps Ethernet port brings external data to your A Cappella III. It is highly recommended that you connect your system directly to a network router with copper Ethernet cabling of Cat-5e or Cat-6 specification.
I2S Output
At Musica Pristina, we think USB Audio is a workaround, one that is likely here to stay. The "U" stands for Universal, after all. But when you have access to a DAC with an I2S Input, there's no better option. While there is no IEEE standard for "out-of-chassis" I2S communication, we've been working diligently to create one.
I2S is the "native language" spoken by DAC chips. It seems a waste to convert audio data for transmission over USB, then to convert it back to I2S for decoding in the DAC. So we've developed hardware send & receive boards (employed in our players and DACs) capable of transmitting the I2S signal (over standard HDMI cables). I2S signals carry the clock and data information needed to reproduce digital audio. And nothing else.
Our I2S output works seamlessly with our Transducer DAC and several other high end DACs on the market. Let us know what DAC you're using so we can help you determine if our I2S output is compatible.
AES/EBU + BNC/RCA Output
Music is timing, and accurate timing starts with impeccable clocks.
Derived from our I2S output, and notably not an adapter laid on top of a motherboard based S/PDIF connector, the A Cappella II's AES/EBU output provides a most pristine transmission of digital audio data to the finest DACs in the world.
Breathe new life into your Berkeley Audio Reference DAC, your MSB DAC or any DAC for that matter, with this output on the A Cappella II.
Network Attached Storage (NAS)
Network Attached Storage (NAS), allows you to decouple library management (which can be done on any machine on your network) from the actual work of playing your music. Fanless, exceedingly clean power, ultra-reliable construction, 12mm aluminum faceplate, EMI/RFI rejection and vibration control combine to produce a mechanically and electrically silent source unit for your digital system. We've gone to great lengths to lower the noise floor and raise the realism.
The A Cappella III from Musica Pristina represents the pinnacle of purity. An absolutely silent player with no moving parts, A Cappella has had every component removed that does not directly create the music signal. It plays your music with unswerving, uninterrupted and undivided attention—hence no LCD screen, CD-ROM drive or other adornments. In short, there's nothing to give you the mistaken impression that anything outside its chassis will have the slightest impression on its performance.
Simplicity
Playback on the A Cappella III is controlled by Roon. The player itself (Network settings, output management and product registration) is managed with Cambio, an easy to use web interface that puts a few setting at your fingertips.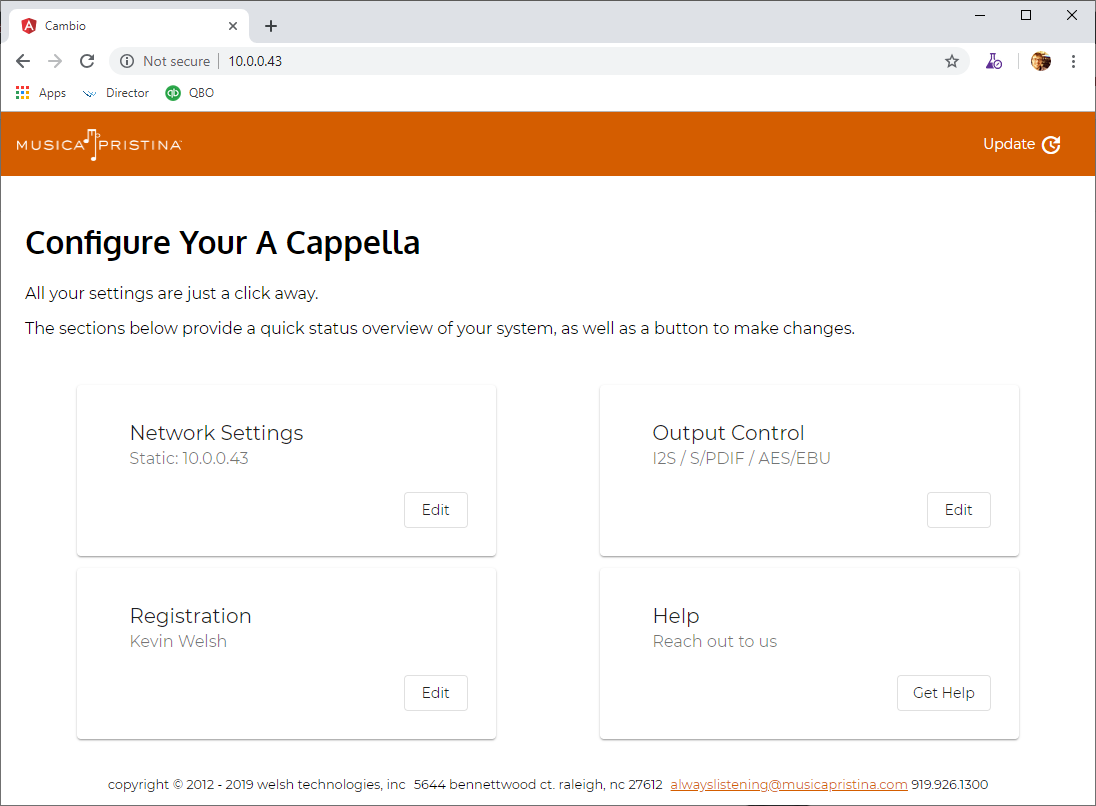 Why Choose A Cappella?
You want a completely silent music streamer, not one with a really quiet fan. There are no moving parts.
You think clocks, code, power and component selection make or break a digital audio component.
You love I2S.
You want a player that strikes the balance between easy to use and fully featured.
You want to adorn your audio rack with a piece of equipment that looks like audio gear. Not a piece that looks like, well, something else.
You want to support products designed and built in the US.
To call any of its incarnations a "base model" would be slander.
A Cappella III, once again, has been designed from the ground up. Although there is no shortage of Internet of Things based audio components on the market, we wanted something as unique as we are. So we built it. Even our power supply is custom (We've done a bit more than stick quality caps behind a typical Linear Power IC.)
Each unit is hand crafted with an eye toward minimalism and an ear toward maximum accuracy and musical impact.
Starting at $5500. Maxed out for $7850.