The Virtuoso PCM Digital to Analog Converter
I will never skip a beat.
Whether you're starting the Digital Audio journey using USB out of a Mac, or pulling an I2S signal out of a piece of dedicated gear, we've got you covered.
With 5 inputs, tube output and analog volume control, you're sure to find a new favorite way to enjoy your music.

Why Choose Virtuoso DAC?
5 inputs

S/PDIF (Coax RCA), AES-3id (BNC) and AES/EBU (XLR)
USB Input with galvanic isolation and audio clock
I2S input mates with the A Cappella II I2S Output (HDMI connector)

Dual mono D/A circuitry
Up to 24 bit / 192 kHz resolution
Dual mono analog circuitry
Fully balanced signal path
Differential vacuum tube (6H30P) gain stage with integral power supply
Analog discrete resistor stepped shunt attenuator
Frequency response / bandwidth: 10Hz to 100KHz (-0.3dB)
Total Harmonic Distortion 0.07% (THD)
Balanced (XLR) Stereo output
Single-ended (RCA) Stereo output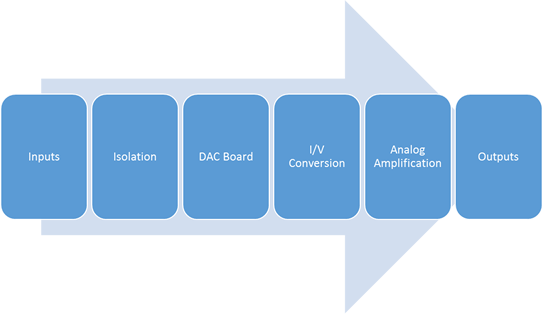 Inputs
The Virtuoso sports five inputs. The first input is an S/PDIF on a Coax RCA connector. The second is an AES-3id input on a BNC connector. The third input is AES/EBU on an XLR connector. The fourth input, of course, is USB. The "U" stands for Universal after all. And the fifth is our I2S input. Pair it with an I2S source, like the A Cappella II, and you'll forget all about inputs 1 – 4.
Isolation
All inputs are galvanically isolated from the DAC Board. This ensures that external devices, and their inherent noise, does not pollute the the internal circuitry, nor other input devices.
DAC Board
Fed by isolated inputs, Digital to Analog conversion is performed by a pair of Burr-Brown 1794 DAC chips. Each IC is used in mono mode to create one channel of the Virtuoso DAC. Each channel provides the signal as a differential current output.
On the DAC board, power for the digital section is separate from that of the analog section. The analog section of the DAC board is fed by ten (10) individual regulators, each with its own purpose.
I/V Conversion
The current output from the DAC chips is passively converted to voltage by an array of tantalum resistors. This voltage represents the low-level analog audio signal.
Analog Amplification
The dual mono analog amplification section is fed low-level analog signals from the I/V circuitry. A differential vacuum tube (6H30P) gain stage, with an integral power supply, is used to provide fully balanced outputs at 2VRMS Max.
Each channel is powered by its own current regulated power supply.
This amplifier uses a stepped shunt volume control implemented with high quality discrete resistors.
Outputs
The Virtuoso provides 2VRMS Max Output on either XLR or RCA connectors. A switch configures balanced or single-ended output on both output connectors.